A town where railroads met…
There was a time, some 125 trains passed through West Concord every day. Industries, homes, churches and schools soon concentrated around the area, establishing a thriving and culturally rich community.
"West Concord Junction evolved from a small agrarian hamlet to an industrial village in the mid-to-late-nineteenth century. Early industry included a pail factory, a Bluine company and the Allen Chair Company. Near-by was the Damon Mill, where an innovative new cotton cloth was woven. The Fitchburg rail line was built in 1844 traversing West Concord with a stop for the Damon Mill. The Assabet River was the source of hydro-power for the local mill."
"The northward extension of the Framingham & Lowell Railroad in 1872 to the Fitchburg Railroad created opportunities for industry along the rail line. In 1878, the Commonwealth opened a new state prison in West Concord, and new worker housing was built nearby. Rail line expansion and the prison spurred population growth in West Concord. By 1900, the industrial village at West Concord Junction was more populous than Concord Center. Today, the West Concord census-designated place is approximately one-third of the Town's populace."
"At the turn of the nineteenth to the twentieth century, new frame mill buildings were being erected in West Concord Junction, including one for the Allen Chair Company, along the rail line. The West Concord Junction rail depot, Union Station, was built in 1893. This Queen Anne style depot is listed on the National Register of Historic Places. New church buildings were constructed – a Roman Catholic parish on Church Street and Union Church at the corner of Main and Church Streets. This late nineteenth century-early twentieth century industrial and commercial development provide the framework for today's West Concord Junction."
– from West Concord Junction Cultural District Action Plan, 2019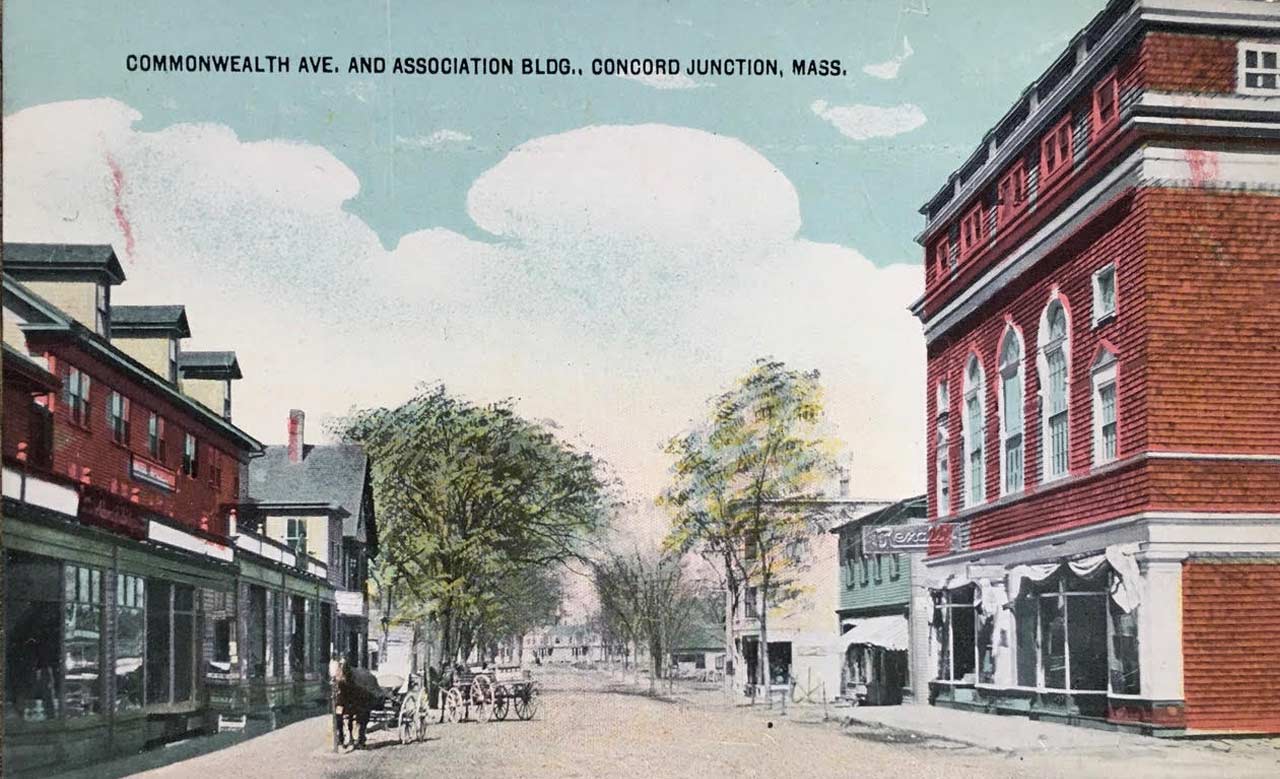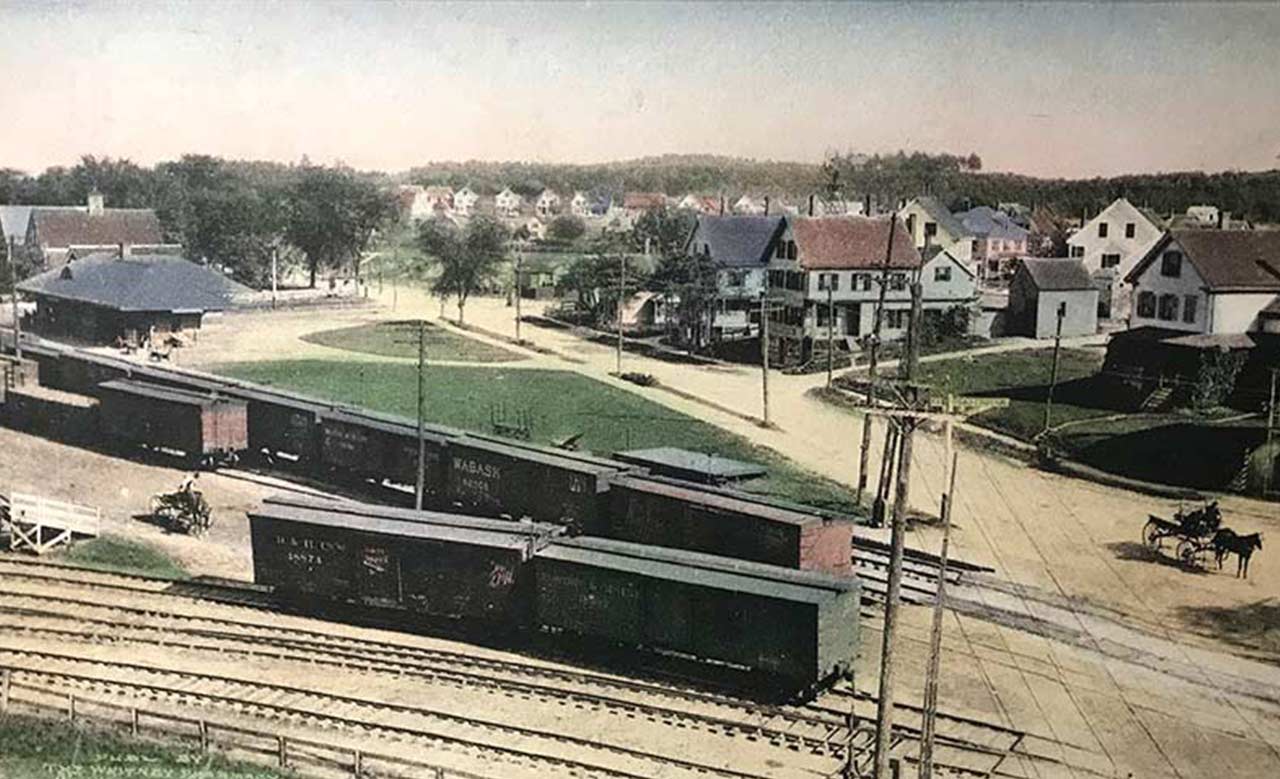 West Concord Village has been known over the years as Factory Village, Warnerville, Prison Village and later Concord Junction. Shown in this old postcard from the early 1900's, is the where the Fitchburg railroad and Framingham & Lowell railroad met alongside the Union Station railroad depot built in 1894 and positioned adjacent to Commonwealth Avenue.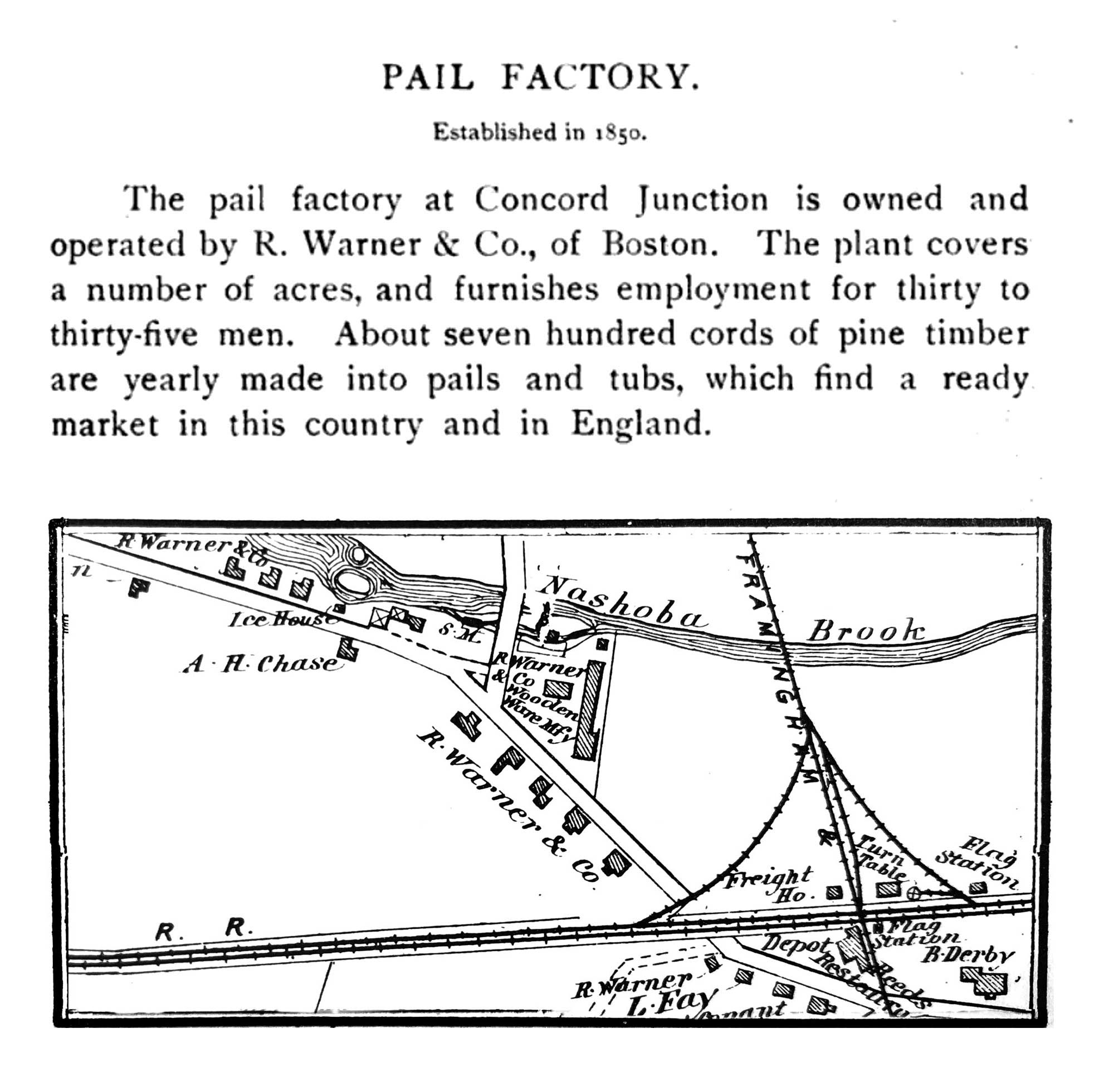 The Concord Directory and Guide dated 1892, references the R. Warner & Company Pail Factory established in 1850, later to succumb to fire in 1893. This was one of the original business' to reside at the current Factory 152 location, shown at the cross-roads along the banks of the Nashoba Brook. A small hamlet begun around a pail factory in the 1850s growing into the major secondary village of Concord Junction after the Framingham & Lowell Railroad was extended north to the Fitchburg line in 1871-72. Over the next two decades, with the establishment of the State Prison in 1878, West Concord rapidly developed as the most populous section of town.